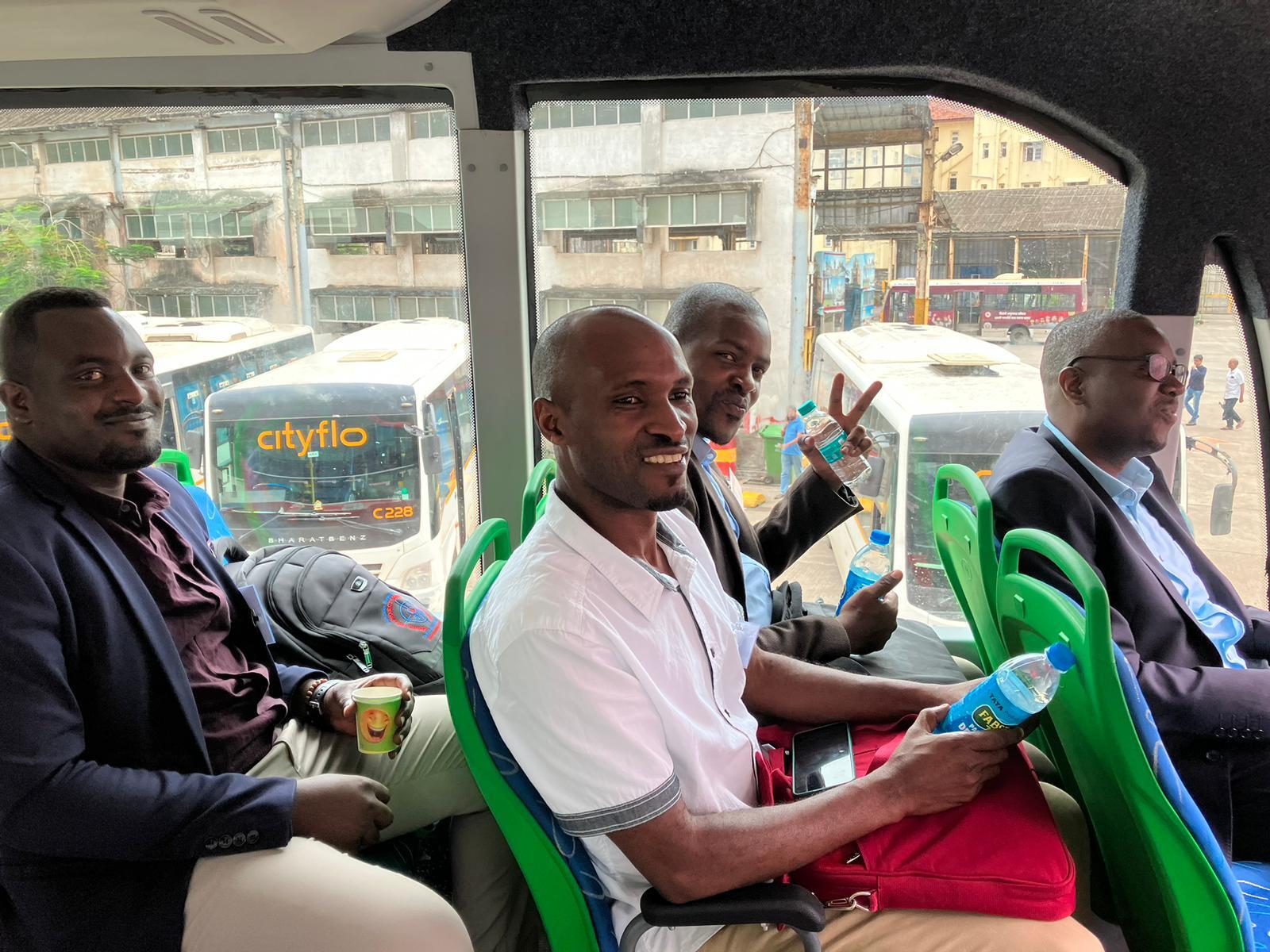 In the Wadala neighborhood of Mumbai, representatives from Kigali, Durban and Mauritius filed into a low, yellow-walled room. They took their seats in rows equipped with desktop computers. Ordinarily, these desks would be filled with the staff responsible for tracking real-time performance analytics for Brihanmumbai Electric Supply & Transport (BEST) – Mumbai's sprawling transport system, which is one of the oldest and largest in Asia. But on this day in July 2023, BEST was hosting representatives from peer cities, who had come to Mumbai with UrbanShift for a Peer-to-Peer Exchange focused on zero-emission buses, led by C40 Cities and supported by WRI India and TUMI.
Inside the BEST Operational Command and Control Center, first opened in January 2021, participants got a first-hand look at the analytics underlying BEST's growing fleet of conventional buses and over 400 electric buses – and the chance to gather critical insights to bring back to their own cities as they pursue low-carbon transportation options.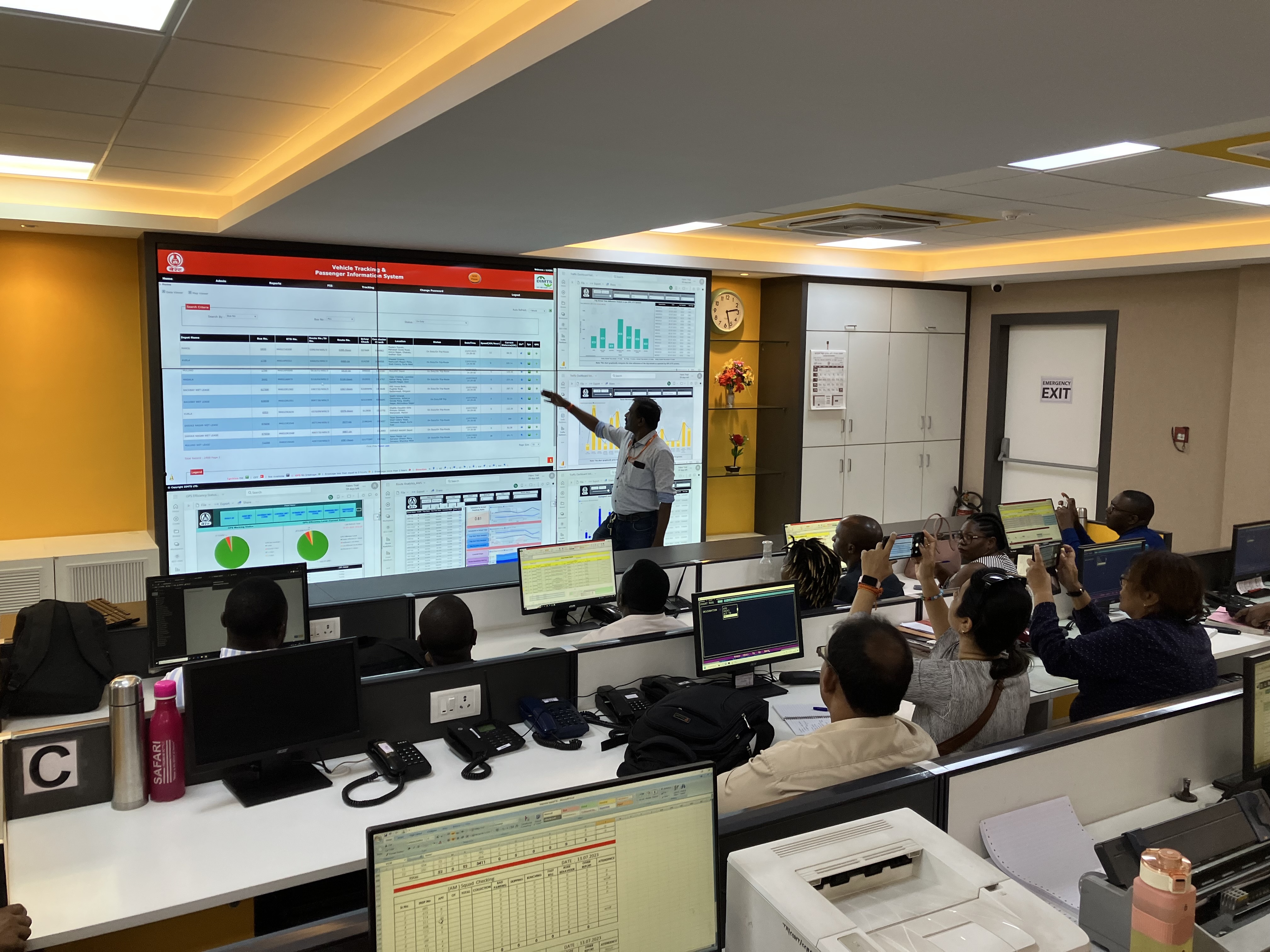 For models of how to roll out and operate a large system of zero-emission buses, Mumbai is hard to top. Founded in 1873, BEST has existed for over 150 years as the transportation system for Mumbai, connecting around 3.5 million people daily with economic opportunities and essential services. As the city has grown, BEST is putting significant effort to expand its transport options to accommodate increased demand for transportation: as of 2015, over half of Mumbaiers travel by bus and BEST will be servicing 6.5 million people by 2025. As Mr. Vijay Singhal, the Honorable General Manager of BEST, emphasized during the opening session of the Peer-to-Peer Exchange on July 11, 2023: "A resilient city is underpinned by a robust public transport system." BEST aims to reduce dependency on private vehicles by providing affordable, quality public transportation and, by 2026, green its fleet by introducing 10,000 electric buses and integrating renewable energy-powered charging at its depots.
As cities across the Global South contend with the dual challenges of urban expansion and climate change, reducing emissions from the transportation sector – which accounts for around a quarter of global greenhouse gas emissions – is essential. In facilitating this Peer-to-Peer Exchange, UrbanShift created an opportunity for peer cities and governments to learn from Mumbai's efforts, and bring tangible tools and strategies back home as they work to scale up green transportation options.
Earlier this year, the Government of Rwanda signed an agreement with Vivo Energy and the Rwanda Social Security Board to supply over 200 electric buses to the City of Kigali, signaling the city and country's commitment to pursuing sustainable transportation infrastructure. As Rwanda undertakes this substantial effort, Beatha Akimpaye, Environment Compliance and Enforcement Division Manager for the Rwanda Environmental Management Authority, said that the Peer-to-Peer Exchange "clearly showed cases of e-mobility success and shared experience from Mumbai will serve for a basis to overcome challenges in our country."
For Mauritius, which procured its first electric bus in 2022 with the intent of growing the availability of zero-emission transport across the island country, the event "was a mind opener," said Shakuntala Gujadhur-Nowbuth, Permanent Secretary for the Government of Mauritius' Ministry of Land Transport and Light Rail. Durban, which is receiving funding from the Global Environment Facility to plan and finance an electric bus pilot project, also came away from the exchange with valuable takeaways ahead of introducing this service to residents.
Over the course of four days, representatives from BEST and the City of Mumbai delved into the complexities of planning for and operating a fleet of zero-emission buses. In the control room at the Wadala Depot, the analytics lead for BEST walked participants through dashboards projected on the large screen at the front of the room. Through advanced monitoring systems, interactive maps showed the position of each electric bus throughout the network in real time, and graphs indicated the performance and battery health of the buses so system operators can easily see, for example, when buses need charging, and where additional service might be required.
Battery capacity and charging infrastructure are critical elements for operating an electric bus fleet. At the electric bus depot – a crucial hub for operating and maintaining the growing zero-emission fleet – BEST staff showed participants the various types of charging infrastructure necessary for a well-functioning network. Overnight, buses can be connected to "slow" charging systems, which are more cost and energy efficient but require more time. For short stops, "fast" charging systems can refuel buses at a higher energy and financial cost. To ensure flexibility and consistency across the system, both types of charging options are essential.
Around the visits to BEST's operations center and depots, the Peer-to-Peer Exchange brought participants into conversation with representatives from Mumbai around best practices for financing, procuring and managing systems. As the participating governments were all in varying phases of planning for and implementing electric bus networks, the discussion generated useful takeaways for each phase of the process, among them:
Building a solid understanding of the electric bus ecosystem and operating conditions within the service area, before deciding on bus types, battery sizes and contracting models, is essential.
The transition from a conventional bus to a zero-emission bus is not a like-for-like swap; expect and plan for complexities along the way.
Route planning is a key component for successful electric bus deployment and operation.
Involving power utilities from the outset will prove useful for planning charging infrastructure and any necessary grid enhancements to accommodate increased demands related to charging.
Upskilling and reskilling of the workforce is critical for cities that are starting their electric bus journey.
A cross-sectoral approach to system planning is key: local and national governments along with private sector players should be involved throughout the process to determine roles and requirements.
Alongside these insights for system planning, an UrbanShift-hosted panel with KfW, the World Bank and IFC gave participants a sense of the financial tools available to them as they plan their transition to zero-emission buses, including results-based lending, technical assistance, transaction advisory services and debt instruments such as concessional loans. During the rich discussion, the panelists shared that aggregation can be an effective strategy to bring down the cost and extend public resources, and explained how the wide variety of contracting models available for electric buses necessitates careful analysis and planning from the outset of an initiative.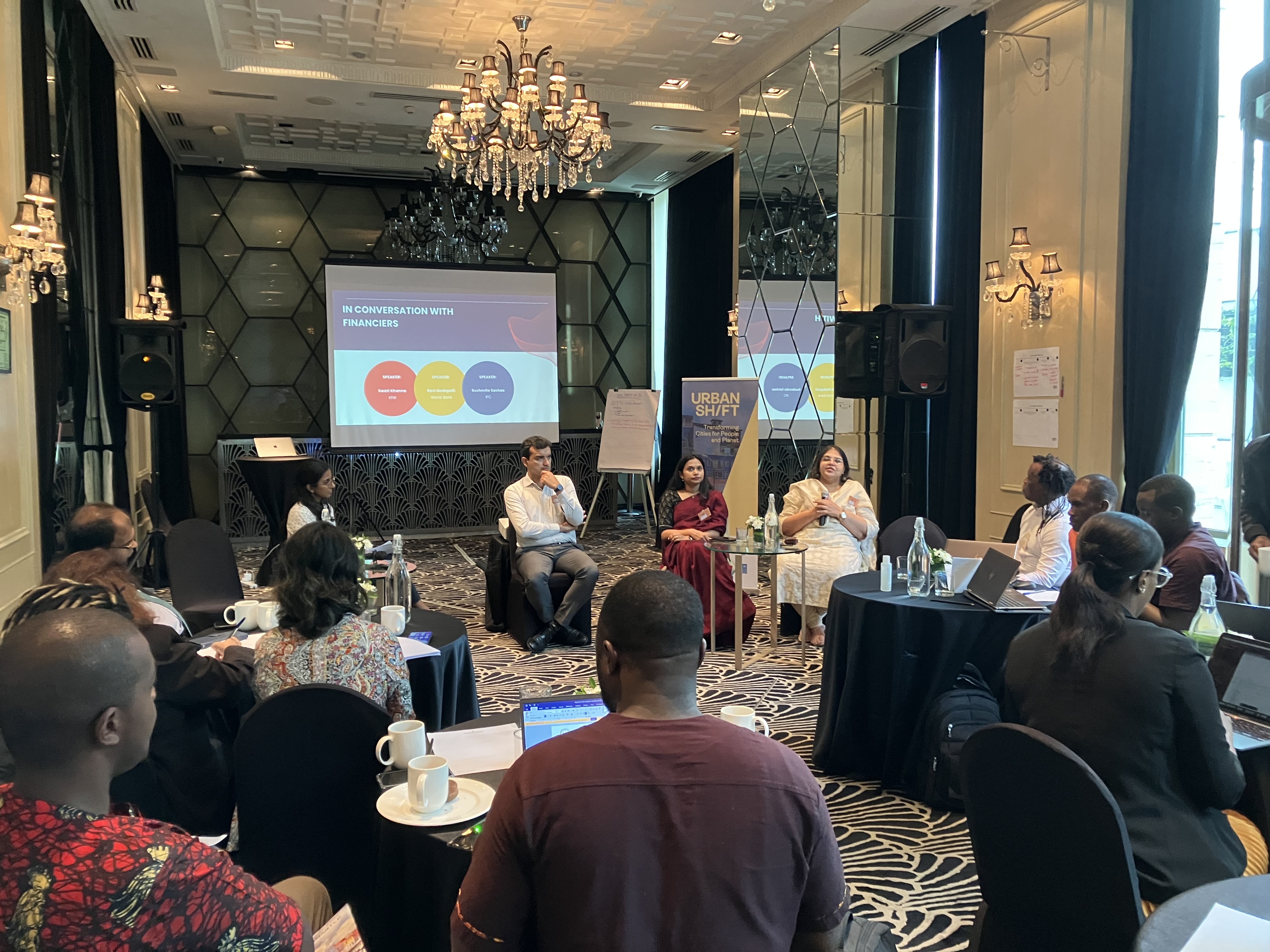 Cities have a vital role to play in reaching the global goal of achieving net-zero emissions by 2050. Especially as cities across the Global South continue to grow, well-connected, low-carbon transportation networks can deliver multiple co-benefits from improved air quality to greater equity through access to opportunity, to new jobs associated with reskilling to operate the systems. Through this Peer-to-Peer Exchange, the representatives from Kigali, Rwanda, Durban and Mauritius came away with expanded knowledge of the challenges and rewards of transitioning their bus fleets to zero-emission and are committed to moving their own systems toward greater sustainability.
This article originally appeared on ShiftCities.org.
Jessy Appavoo is the Head of UrbanShift for C40 Cities.
Viola Follini is a Project Manager for UrbanShift from C40 Cities.
Eillie Anzilotti is Communications Lead for UrbanShift from WRI Ross Center for Sustainable Cities.